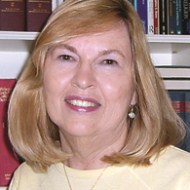 Sheila Graham worked for Grace Communion International as a writer and editor. She has a master's degree in theology.
Hurley, James B. Man and Woman in Biblical Perspective.
I am an author, speaker, and theologian. I write both feminist theology and urban fantasy. My first book What You Didn't Learn in Sunday School: Women Who Didn't Shut Up & Sit Down was released in February 2013. I am now working on my second book, a compilation of sermons on the women in the Bible, and I recently finished my first novel, Mutability, a feminist vampire story (go to S. R. Atteberry to find out more about my fiction). I also speak at churches & conferences as well as preach. I have 15 years of experience in both writing and editing. I am an ordained minister. I have 17 years of experience as a pastor holding various associate positions and as a laypastor. My specialties are Biblical Studies, Feminist Theology, Spiritual Formation, and Christian Formation and Education. I hold an M. A. Theological Studies, and I've been writing on the women in the Bible and women in church history for the last 15 years.